It is that time again. Bevans birthday.
This year I went to the craft shop especially to get a chess pieces punch to make his card out of. When we checked the punches they were all sticking and on closer inspection the pieces were actually quite small.
I decided to get a chess stamp instead, and the lady told me that it was cheaper to buy the card kit which contained the stamp, than to just get the stamp by itself. Go figure.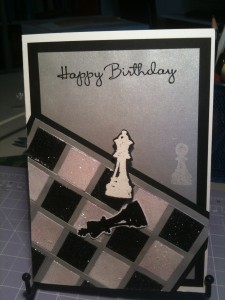 A friend of mine gave some some black glittery embossing powder, which is kind of like the black version of iridescent Ice embossing powder. So I used both of these and then covered them with glossy accents to make the chess board tiles.
The two chess pieces were just embossed with plain black and white on the opposite colour paper, and the little stamped pawn is stamped with whisper white onto glossy silver card stock.
Bevan is a chess geek so I know he will be happy with this, and surprised as I haven't yet told him I bought a chess stamp.
He also loves his burgers and fries, so I decided to make his cake as a burger and fries.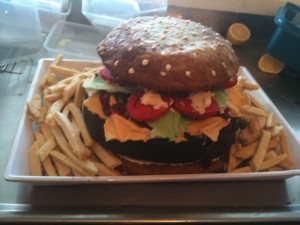 With Bevan's favourite cake being banana, that is what the bun is made out of with chocolate cake for the patty. The lettuce and cheese is coloured moulded white chocolate, and the dressing is just butter icing.The tomato sauce was raspberry gel icing and the fries and tomatoes were butter cookies.
It looked great and everyone who saw it loved it.