Today was my birthday. Among other things I got some wonderful new card making things.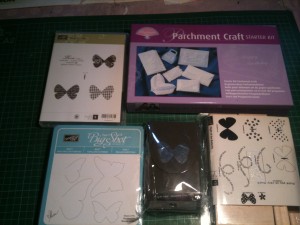 The two butterfly stamps and the butterfly punch are about to be deleted from Stampin Up and since I use alot of butterflies in my card making I decided to put them on my order list before they are gone forever. Lucky for me I have a wonderful husband who went ahead and got them for me for my birthday, along with the Beautiful Butterflies Bigz die.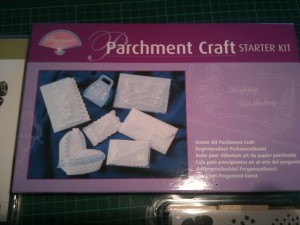 I was especially pleased with this starter kit for parchment craft. I love the beautiful cards I have seen made in this style, and have been talking about giving it a go for sometime now. I suspect that it is not as easy as it looks but we will see. Now that I have something to start with I will be able to find out for myself.
After having gifted me with all the rest of the kits for my gingerbread house, I was not expecting anything more from Maureen, so I was surprised when this arrived in the mail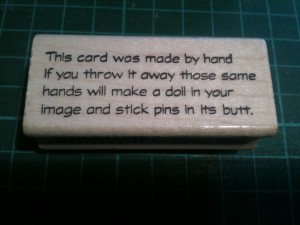 This was definately my laugh for the day, I have lots of ideas to use this stamp  for her birthday card next month.
So now that I have been completely spoiled I will let you all know how I fair on the parchment crafting, since I am coming into it as a complete and clueless beginner.