Kirsten is turning 30. She also loves Rainbow Brite and still has many happy memories around it from her childhood.
We got her a Morphing Rainbow Brite Mug for her birthday and it required a similar themed card to go with it.
So I hunted around for the right picture and came up with this card.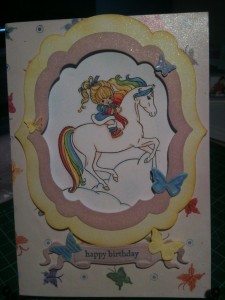 You can not really tell in the photo but the the whole card is covered with shimmer mists to add a bit of soft sparkle to it. I wanted to have a soft rainbow background paper, but I think in the end the soft colouring on the butterfly paper on the background worked well for me.
I uses copics to colour Rainbow Brite and Starlight and I was pretty happy with the end results.