Little Brody is going to be two soon, and loves Ella his elephant that he sleeps with. He also loved seeing them at the Zoo when we took him. So it seemed fitting to make his birthday card with an elephant on it.
I found this digi stamp at Squigglefly, it is the cutest little elephant.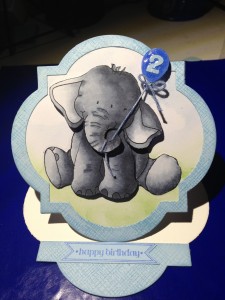 I could just see this elephant all popped up so I printed off three copies and coloured different parts with copics. I cut out the parts and assembled the elephant and just love the way it turned out sitting inside his frame. I couldn't decide on the outside area so in the end I turned it into an easel card, and gave Ella a balloon to hold.
This card was so much fun, I can see me using this technique again in the future.