Well it is Cath's birthday again and I have worked very hard on her card this year. It is my first ever parchment card, so I was really hoping that all that practise would pay off.
I have to admit that it took me about three goes to get it right, but part of the problem was that I was trying to do it on some nice blue parchment I bought. I discovered that this parchment was a bit thinner and so I had to be more careful so as not to put a hole in it. In the end I gave up and went back to the plain parchment and just put some blue cardstock behind it.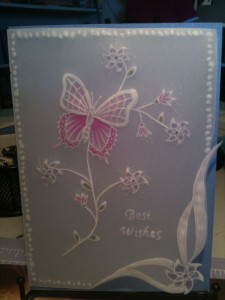 I can not remember where I got this pattern from but I bought it online as part of a set. It is a fairly easy pattern so as a beginner it was a good one to start with.
I actually coloured the butterfly and flowers with copics as I did not have anything else that I thought would work.