It's always nice to celebrate someone special in your life, so we look forward to letting the important men in our life how wonderful they are.
Mens cards are always a bit of a challenge, so I tend to custom make for the individual.
This year Bevan will be getting this card.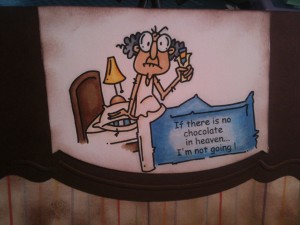 I found this Digistamp at Bugaboostamps.com, his name is Gus and I just know that Bevan will love the sentiment.
He is coloured with Copic Markers E21, E31, E33, E43, E57, E59, B000, B23, B24, B32, YR000, Y11, Y15, Y17, C0, C1, C3, C5. Seems like quite a list.
Gus is such a cool dude I can see me using more of his images in the future. The shape is cut on an angle with SU adorning edglets and embossed with adorning accents, then mounted over the striped paper which I dirtied up a bit with chocolate chip ink.