I have had the unfortunate need to make a sympathy card as my uncle has lost his battle with cancer. I find these very hard to make as they need to be very simple and tasteful, and I am always sad when I have to make them.
I decided to use a very old stamp set, which is also the first stamp set I ever bought it is called Echos of Kindness, and keep the colours very simple.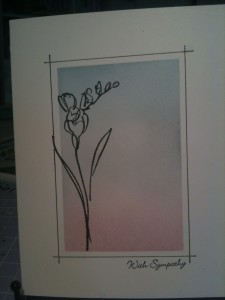 Although there are many things I could add to this card, I feel that the occasion calls for it to be left just how it is.
Unfortunately I have also just heard that a close friends father has been given only two weeks, so I guess I will be making another one of these.