Not a day we make a fuss about anymore, but still a day.
I decided to make an effort and so I made a card for the day. I had an idea of cutting out a heart and having a key in it, so that is what I wanted to do. It took some thinking but I did manage to get the heart cut out. I used Stampin Up"s concord crush cardstock as the card was for my husband so I didn"t want to use any pink. I also like the purple with the red.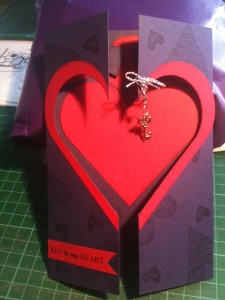 The card needed some balance on the inside so I added a few little touches to ensure that it would stand up nicely. When I first started I couldn"t get a nice key so only had a great big heavy on that I was struggling with. When I stumbled on this smaller key I knew it was the answer to my balance problem.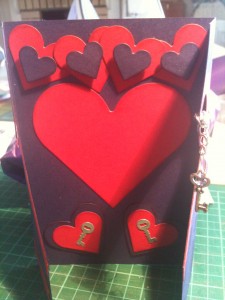 To keep the whole thing closed I added a body band with yet more hearts. Now this may have been a bit of overkill but it was only on for a short amount of time and so served its purpose.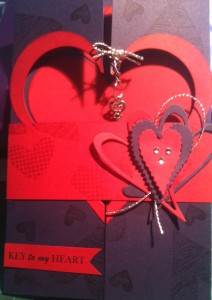 So there it is, my card for my valentine.