It is Caths Birthday again and I always feel the pressure to step up a bit with my card making for her. She does such beautiful work herself.
I came up with this little creation for her using my Tim Holtz Bird Die and a gate fold card with a belly band.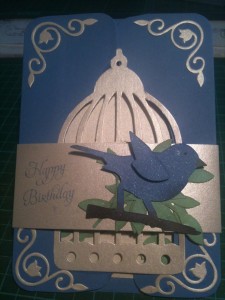 I love this colour combination, it reminds me of wedgewood. The card stock is Stampin Ups Ballet blue, which is delete so that is a shame. It is teamed up with a cream metallic cardstock and they just seem to go well together. The belly band holds the whole thing closed.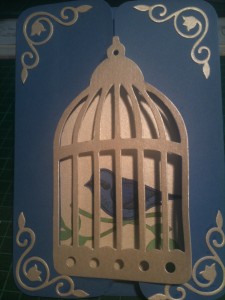 The bird cage shape is cut out of both sides of the gate fold and then another is added just to one side so that we have a gate fold with a whole birdcage. It was a bit tricky to cut the gate fold like this but after a few false starts I finally made it work.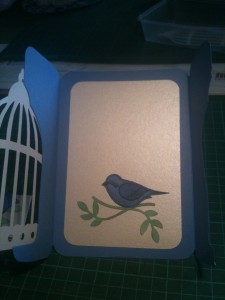 The bird itself is on the inside of the card, but you can see it peeking through on the front. This bird is done with the Stampin Up bird punch, whereas the bird on the belly band is the one that comes with the bird cage.