Some things are too good not to share…. this card was one of them.
I have been seeing people put Faux metal onto there cards for some time now and kept thinking how good it looked. Well while looking in the Stationary Warehouse I stumbled upon the very embossing folder to make my own. I then hunted down some foil paper and it all arrived just in time to make this card for Josephs Birthday on Sunday.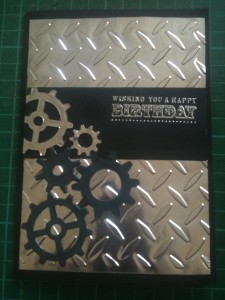 I am very happy with how this one turned out, the embossing folder is a cuttlebug one called Diamond Plate, which I used on Spellbinders foil paper in metal tones. The cogs are also cut out of the foil paper and are a combination of Tim Holtz mini cogs and Stampin Up cog punch.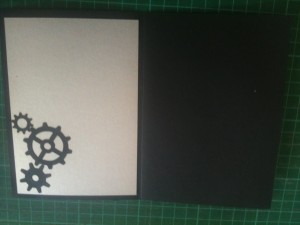 The whole thing was mounted onto black cardstock, so I added silver cardstock with some black cogs to decorate. Unfortunately I have managed to take the photo upside down and I dont know how to flip it from here. But still you get the idea, you just need to stand on your head.