I stumbled onto a the Polkadoodles site and fell in love with there Neighbours series. So much so that I was inspired to put in my first ever overseas stamp order. I was excited when they arrived and I have also invested in some more Copic markers.
The end result is this card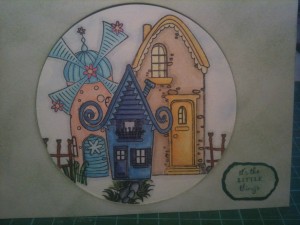 I just adore all the whimsical little houses so I have made this for a house warming card. Funny I have been noticing that although I don""t like green, I seem to use a lot of it in my cards.
The stamp sets have lots of little bits to them so you can build a scene with them to fill whatever occasion. They should get plenty of use.