The month of May brings the first of several birthdays in a row. So until August I need to keep up with all the cards that we will be giving out.
The first is Olivias she is turning 13 this month. Having invested in some more Copic markers I wanted to use them in her card. I found this Digi stamp that just fitted the girl nicely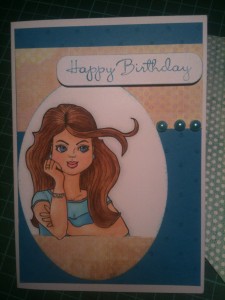 I also managed to use the new/used background stamp in the blue background. I was very happy to find that one on Trade Me a couple of weeks ago.
With so many cards to do I do not know if I will get them all on the blog but we shall see what we can do.