I had to make a very special card for my friend Maureens birthday. She is always giving me such a hard time whenever I have a birthday because she is 11 months older than me. She is always saying that for one month we are the same age and I am now old. So she had to have a Stella card.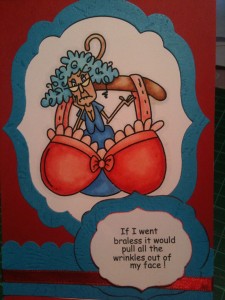 I know she will get a laugh out of this. I found this image at Bugaboostamps.com. When I first looked at it and read the sentiment I laughed so hard that I knew it was the right stamp to use.
Stella and her bra are coloured with Copic markers B000, B00, B02, B12, B23, B24, B32, E21, E31, E37, E41, E53, R000, R20, R22, R27.
Not a colour combination I would normally use, but for this image it seemed to work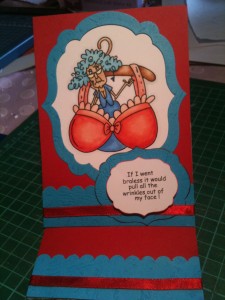 I made this into an easel card for something different to do. I also added the stamp that Maureen gave me for my birthday on the back of the card.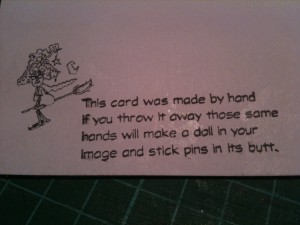 The little witch is Stella again from Bugaboo Stamps. She is so cute as a witch and not too scary. I might even colour her in before I send the card off.