I have seen a few telescope cards recently and I always think how nice they look. I do not really have any stamps suitable for this style of card so I just made it up.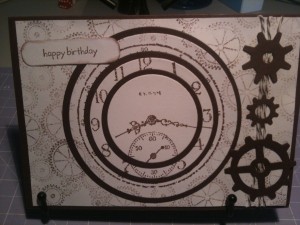 I used Stampin Ups retired set Sense of Time and stamped the clock and the background with chocolate chip ink. Then I cut is out and matted it with chocolate chip paper. Two of the cogs are from Tim Holts and the other one is from the old cog punch.
Since we may be posting this card I decided not to pop the layers up, although I think the whole thing would look better if I did.