Sometimes it is frustrating to live in New Zealand and not be able to get a lot of the stuff you see on the different websites. Alcohol markers fall into this category.
Copic markers have only been here for a short time, and we can only get the ciao markers here, which of course means that most of the colours are still unavailable to us. On top of that they are very expensive and there has been talk of price increases coming soon. This is bad news for someone like me, with a limited budget and still at the beginning of my copic collection.
I decided to look around as some of the other brands and see if something would feel like a fit for me. After much search in the web I decided to try out the Spectrum Noir markers to see it I liked them. I went into it with a very open mind as reviews had some people loving them and others saying they would rather stay with their copics as they did not like the Specrum Noir markers at all.
So I took the plunge and invested my birthday money into three packs of markers. Now my first comparison between copics and Spectrum Noirs. I do like the way the packs give you six blendable pens right off the bat. However I can see how this could be frustrating for someone who just wanted one or two shades because they have a lot of other alcohol markers already. For me with not too many copics this was not an issue so I am happy to buy the packs, it takes the guess work out of which colours to by.I think down the line a bit further I may be frustrated about having to buy the reinkers in packs. but right now it is not an issue.
On the other hand with the copics I get the shades I want for the a particular project and then I have them, the packs didn""t work for me so I prefer to buy my copics as individual pens. I cannot get he reinkers here, but I can send them in to get them refilled if I need to. The advantage there is if I do not use a marker much then I never have to get it refilled. The disadvantage is that I have to send them away, so I would be looking a week without that marker if I ever have to refill them.
Moving on I ordered the markers online on Sunday, and they arrived yesterday(Wednesday), so that was not too bad for mail order. I ordered three packs, the essentials, the pale hues and the warm greys. I didn""t buy colours that I already had in the copics, instead filling in some gaps that I wanted.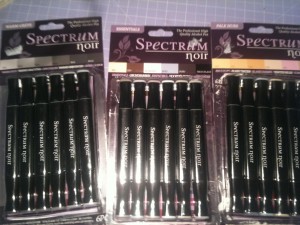 It is always exciting to get new things, and these markers were no exception. I am not going to go into the obvious differences between the two brands as there is a lot of that information out there already, What is important is the whole colouring/blending thing, after all that is why we use alcohol markers in the first place.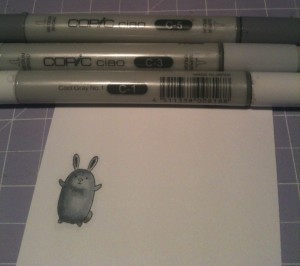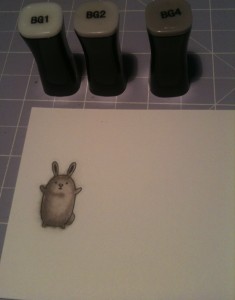 I stamped the same image on the same card stock and used c1, c3, and c5 in the copic markers on one image then BG1, BG2 and BG4 in the Spectrum Noir. These are both greys but one is a cool grey and the other is a warm grey. Both images were given a shadow outline using the c0 copic marker since this is something I often do with my images anyway.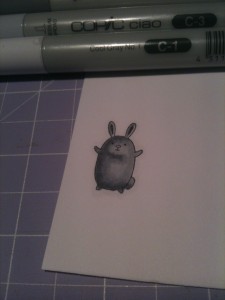 So first off, I will say that the different markers do require slightly different techniques due to the differences in there nibs. I have had more practice with my copics, but I am still very much a beginner with all the alcohol markers so there is a lot of room for improvement. I will also say that the image is used is quite small being only about and inch high.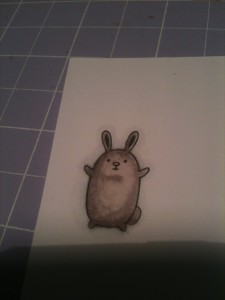 I managed to get both images to blend although I seemed to have to spend more time with the copics to get the blending to happen. The Spectrum Noir markers are quite wet so when you layer the shades they almost blend themselves, the down side to this is that you have to be careful at the edges because it may bleed a bit. I did not have any trouble with the copics bleeding, but I had to work a lot harder get the blending happening. I also did have a play with some browns and combining both brands, and it seemed to work just fine. I just had to make sure that I had colour shades close to each other.
My personal opinion is that if you have already invested a lot of money into copics and are happy with your images, you might as well stick to them as you will not gain anything with the other markers. If on the other hand you are new to alcohol markers and do not have a large disposable budget, then certainly at half the price per marker, the Spectrum Noir will do the job with no bigger of a learning curve.
So what will I do now that I have some of each. Well because of the problems getting the copics colours, I plan to continue to use both. Because of the price, I will over time get the rest of the Spectrum Noir markers and then I can fill in my shadings with the copics. Since I can use both together I think this will give me many more options that just using one brand. Of course I might have a different answer if I had been able to choose between all of the copic colours.