In the middle of making my christmas cards, I needed to wait for my stamps to arrive. While I was waiting I decided to have another go with my parchment starter kit.
Onto tag number two. I still think that the tracing is the hardest part, but overall it came out much better than the first one. Last time I needed a week of practice before I could trace the pattern even halfway good enough to emboss.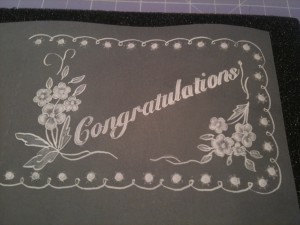 Still needing more practice, and it is certainly a style that can't be rushed. I managed to avoid putting any holes in this one, in fact I could almost get away with cutting it out and making the tag properly. Maybe the nest one I will turn into a card.
Overall I think I am happy with this for a second attempt at something completely new.