In keeping with last year, I made just one card, but 50 copies of it for this year. I think I like this idea for a christmas card as then I have no problem with trying to remember what I sent to people, so no danger of sending them the same one two years in a row.
This year I was late starting as I had a bit of trouble coming up with a design. I really wanted to use the Christmas Stocking Stamp and punch that I got last year. I had used them on some tags but wanted to convert them to a card. Alas whatever I tried just did not gel for me, so I had to can that idea and start from scratch.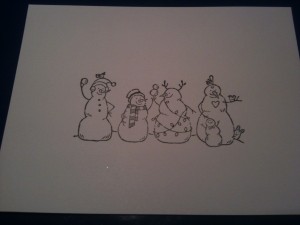 Stampin Up came out with there new christmas mini catalogue and in it was a really lovely snowman stamp. It was cute that I had to order it.
So this was the image I decided to build my card around.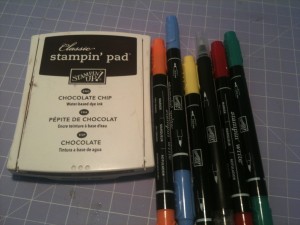 I stamped the image with black Stazon ink and then did a little colouring just with markers and blender pen and ink. I also sponged the sky with some Bashful Blue ink, but when I was finished the image still looked a bit flat. To get around this I grabbed my Stormy Sky distress ink and used a blender pen to put some shadowing in. This was the perfect blue/grey shade and just finished the image off perfectly.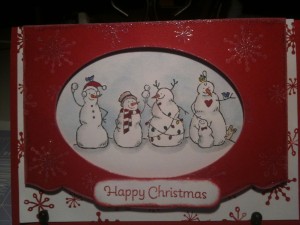 I cut out the red overlay and stamped snowflakes on it with Whisper White craft ink and then embossed with Iridescent Ice embossing powder. It doesn't really show up in the picture, but I love that it looks like icicles around the edge where I sponged it. The red snowflakes on the white layer are just stamped with Real Red ink, that was enough for them. The sentiment tab is sponged in the red and then versamark and edged with the same embossing powder.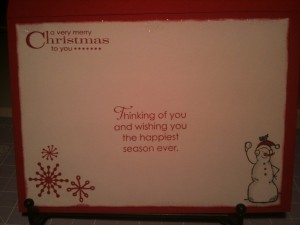 The inside of the card also has some Real Red sponged around it followed by versamark and more of the Iridescent Ice embossing powder just around the edge. It adds just a nice little bit of sparkle without being too much.
I love the two verses split apart like this allowing for us to write inbetween. The same snowflakes were also stamped on the envelopes.
The best thing is that I have managed to get all 50 cards completed before the end of October, so I feel like I am on track for christmas.